Please Join Us for a
Special Ceremony and Program
BlackWomen United for Action's
30 th Anniversary
Slave Memorial commemoration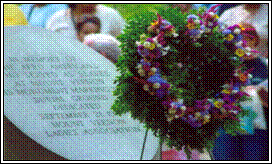 Saturday, October 12, 2013
George Washington's Mount Vernon
3200 Mount Vernon Memorial Highway
Alexandria, Virginia 22309
11:00 A.M.
Free to the Public
(Respectful Attire)
Donations Greatfully Appreciated
Start : Oct. 12, 2013 11:00 a.m.
End

:
Oct. 12, 2013 14:00 p.m.
Address

:
3200 Mount Vernon Memorial Highway Alexandria, VA.
United States
Dear Friend of BWUFA,
Black Women United for Action and the Mount Vernon Ladies Association invite you to join us for the 30th Anniversary of the Slave Memorial Wreath-Laying Ceremony at George Washington's Mount Vernon Estate on Saturday, October 12, 2013 at 11:00 a.m.
The Slave Memorial was designed by Howard University students and is known to be the only one of its kind in the nation. It is dedicated to enslaved Africans who lived and died in bondage Mount Vernon and stands as a true testament and reminder of contributions and sacrifices Mount Vernon's and all slaves made in the building of this great nation.
We also invite you to make a generous donation to help defray the costs for this event and the other festivities we are planning to commemorate the 30th Anniversary of the Slave Memorial. Please RSVP if you will be joining us. We look forward to seeing you there.
Warmest regards,
Sheila Coates
President
Black Women United for Action